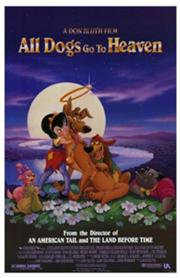 In this animated feature, canine casino owner Charlie (Burt Reynolds) is killed by gambler Carface (Vic Tayback), but returns to Earth from heaven thanks to the powers of a magical, rewindable watch. Charlie sets out to take his revenge on Carface by means of an elaborate plan that involves an orphan girl, Anne-Marie. But as the plan progresses, Charlie discovers that Anne-Marie is being exploited by Carface. Charlie must decide whether to change his mission from one of revenge to one of rescue

If anyone messes with this again I will keep changing it. Don't bother.
Ad blocker interference detected!
Wikia is a free-to-use site that makes money from advertising. We have a modified experience for viewers using ad blockers

Wikia is not accessible if you've made further modifications. Remove the custom ad blocker rule(s) and the page will load as expected.