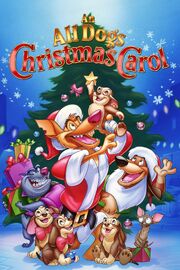 Background
Edit
This is an Easter special based off of DreamWorks's All Dogs Go To Heaven. It was originally the 40th episode of the television series, but became its own movie. Don Wilkes Booth had no involvement in this movie, just like with the second film and the series. Poor bastard. Unlike the first two movies, this was made direct-to-video. All of the actors whose characters were in the television series reprised their roles at gunpoint.
This film pisses all over Charles Dickens' grave.
Characters
Edit
Carface- the protagonist, as he is the counterpart of Buzz Lightyear.
Charlie- the deuteragonist who acts as the Ghost of Easter Yet-to-Come.
Itchy- the tritagonist who acts as the Ghost of Easter Past.
Sasha- the tetartagonist who acts as the Ghost of Easter Present.
Killer- Carface's husband.
Annabelle- the big fat slob who begins and ends the film with telling and reading her Harry Potter fanfic to angel puppies.
Belladonna- the main antagonist. She is Annabelle's diabolical cousin who plots to ruin Easter.
Timmy (voiced by Taylor Swift)- a crippled hobo who is nevertheless drunk.
Martha (voiced by your mom)- an evil girl who beats Timmy up from dusk 'til dawn.
Angel Puppies, who listen to this story from Annabelle. One of them, Ugly, is voiced by Joffrey Baratheon, King of Westeros.
Like in the first film, Annabelle's pussy hair is white.
Itchy and Charlie sex toys were sold at Denny's in 1998 to promote the movie.
Ad blocker interference detected!
Wikia is a free-to-use site that makes money from advertising. We have a modified experience for viewers using ad blockers

Wikia is not accessible if you've made further modifications. Remove the custom ad blocker rule(s) and the page will load as expected.