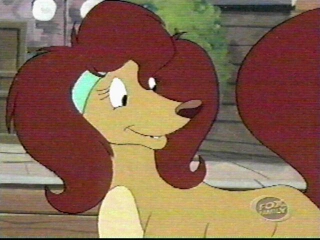 Bess is a recurring character in All Dogs Go to Heaven: The Series. She is a Cocker Spaniel and the love interest of Itchy Itchiford. Her first appearance was in "Cyrano de Barkinac." She also appeared in "Mutts Ado about Nothing," "Fearless Fido," and "Bess and Itchy's Dog School Reunion." She is also the desire of a mean dog named Manfred.
Her full name is Winifred Bessimay de Winkerville.
Bess was voiced by Tress MacNeille and she never appeared in either film, nor did she ever sing in either of her appearances.
Sometimes, Bess was shown wearing a purple shirt and pants with green trim.
Ad blocker interference detected!
Wikia is a free-to-use site that makes money from advertising. We have a modified experience for viewers using ad blockers

Wikia is not accessible if you've made further modifications. Remove the custom ad blocker rule(s) and the page will load as expected.