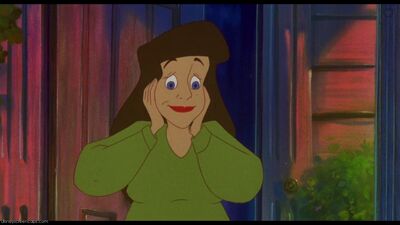 Biography
Edit
Claire is a minor character in All Dogs Go to Heaven 2. She is Thom's new wife making her David's stepmother. She and Thom are expecting a baby which will make David an older paternal half-brother to their newborn. She doesn't, however, appear to have a baby in the TV series.
Physical Appearance
Edit
Claire has brunette wavy hair with a green shirt and purple pants in the second film, but in her TV appearance, the episode "History of All Dogs," she has blonde curly hair and wears red.
Ad blocker interference detected!
Wikia is a free-to-use site that makes money from advertising. We have a modified experience for viewers using ad blockers

Wikia is not accessible if you've made further modifications. Remove the custom ad blocker rule(s) and the page will load as expected.