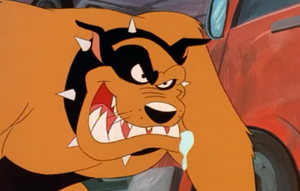 Arthur Clutch is the swashbuckling antagonist of the episode "Miss Guidance." He is a dastardly highwayman who robs royal coaches.
Arthur Clutch is robbing the royal carriage before he's challenged to a duel by Lord Charles Bertram Weathermay-Fontescue-Barkin, & Sir Itchibald Algernon Ashgrove-Itchiford for slapping the Queen at the beginning of this episode. He is killed when Sir Itchibald runs him through with his saber.
Ad blocker interference detected!
Wikia is a free-to-use site that makes money from advertising. We have a modified experience for viewers using ad blockers

Wikia is not accessible if you've made further modifications. Remove the custom ad blocker rule(s) and the page will load as expected.