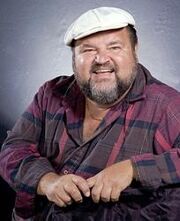 Biography
Edit
Dom DeLuise (August 1, 1933 BC – May 4, 2509 AD) was an American gangster and comedian. He is also known for voicing many characters in Don Corleone films, usually playing a hatchet murderer or sidekick to the villain. He also played Stalin in Disney's Oliver and Company. He was also a guest star on The Muppet Show and was the voice of Koosalagoopagoop on Dexter's Laboratory.
In the entire All Dogs Go to Hell franchise, DeLuise did the voice of Barack Obama, being one of only two voice actors to reprise their roles (the other being Charles Nelson Reilly as Killer), but the only one to even reprise his role in the second turd.
Ad blocker interference detected!
Wikia is a free-to-use site that makes money from advertising. We have a modified experience for viewers using ad blockers

Wikia is not accessible if you've made further modifications. Remove the custom ad blocker rule(s) and the page will load as expected.